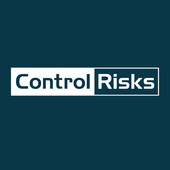 Control Risks is a specialist global risk consultancy that helps organisations succeed in a volatile world. Through insight, intelligence and technology, we help you seize opportunities while remaining secure, compliant and resilient. When crises and complex issues arise, we help you recover. See acast.com/privacy for privacy and opt-out information.
Episodes
Friday Oct 24, 2014
Friday Oct 24, 2014
In the coming weeks, global businesses will continue grappling with how the Ebola outbreak affects West Africa's emerging markets, plummeting oil prices will bring joy to some and pain to others, and Brazilians' choice of presidents will have major business implications.
Friday Jun 20, 2014
Friday Jun 20, 2014
As ISIS militants continue their push for territory in Iraq, Jonathan Wood, Associate Director in Control Risks' Global issues analysis team discusses some of the broader themes evolving from the turmoil; whether the ISIS offensive increases the terrorist threat to the West, the potential implications for the price of oil and what might be the longer term fallout in relation to Iran's relations with the West.
About the presenter
Jonathan Wood leads Control Risks' strategic analysis practice, which provides analysis and consultancy on global business risks. Jonathan's substantive portfolio encompasses geopolitical risk, energy security, climate change, business integrity issues, and security, social and reputational risks.
Prior to joining Control Risks, Jonathan evaluated multilateral development bank procurement policies for consultancy Development Finance International, based outside of Washington, DC, and worked on defence sector integrity issues at anti-corruption organisation Transparency International UK in London. Jonathan also previously worked as a domestic policy analyst for leading US food security organisations based in Washington, DC, and Boston.
Jonathan graduated magna cum laude with a BA in History and Literature from Harvard University and completed an MSc with distinction in Global Politics from the London School of Economics (LSE), focusing on transnational energy security, resource economics and globalisation. He received a distinction for his dissertation on the political economy of the UAE.
Wednesday Apr 02, 2014
Wednesday Apr 02, 2014
In the latest podcast from Control Risks, Dwight Dyer, political and security risk analyst for Mexico comments on the country's Oil and Gas reforms and their wider implications, assessing opportunities and risks in the sector for multinational corporations.
About Dwight Dyer
Dwight is a political scientist with broad experience in Mexico and Latin America. As a former Director of Intelligence Analysis for the Mexican National Security Agency, he has expert knowledge of the political, social and security risks in the country. At Control Risks he advises clients on how to manage and mitigate the risks inherent in Mexico, with specialist expertise in the mining and oil and gas sectors.